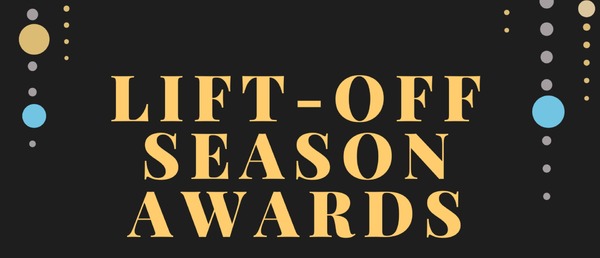 Filmmakers, nominees and Network Members from all over the world joined the Lift-Off team at our home Pinewood Studios, UK, for a celebration full of awards, drinking and dancing.
Networking is something that Lift-Off are proud to support and encourage at any chance we get - the Lift-Off Season Awards is no exception. This is an exclusive evening for Network Members and some of the best filmmakers from the indie film scene to meet and form professional collaborations which could last a lifetime.
Congratulations to all the winners and nominees!
Best Feature Narrative
Philophobia
Directed by Guy Davies 
Synopsis: Set in the rolling hills of the English countryside, Philophobia is a picture of small town adolescence. One week of school remains for Kai, an aspiring writer, and his friends while they sit their final exams. How they choose to spend this time will cost one of them their life and leave each of them changed forever.
Best Feature Documentary
Fighting For A City
Directed by Greg Hardes & Jacob Proud
Synopsis:The story of a young boxer on the road to his dream; a world title fight in his hometown of Leeds. On the way, we meet an extraordinary family, a father who trains his son and the most passionate fans in boxing. The film is set against the background of one city; Leeds. Half aspirational professionals and students, half austerity ravaged estates, Leeds is a schizophrenic metaphor for UK 2016. Our boxer bridges the two because this is a city in need of a hero. Can he match and fulfil their hopes and dreams?
Best Short Live Action Narrative
Dominant Species
Directed by Joseph Sackett
Synopsis: A queer sci-fi about 10 aliens in human host bodies learning how to be men.
Best Short Documentary
Yellow
Directed by Chris Franklin
Synopsis: When Australian documentary photographer Andrew Chapman was invited to the Austin Hospital in Melbourne to photograph open heart surgery for TIME magazine, the transplant team in the operating theatre next door invited him to photograph them as well. Little did he know, this same surgical team would be saving his life 17 years later.
Best Director
Philip Barantini 
For Boiling Point
Synopsis: During the busy run-up to Christmas, a single-take snapshot of the immense stress and skills of a talented head chef reveals that things are about to burst behind the restaurant's flash façade.
Best Screenplay
I Don't Want to Set the World on Fire
Written by Tamara von Werthern
Synopsis: Society is coming to an end in the UK. But Emma and Paul are in luck, they built a bunker in their back garden and they will just sit it out. As long as they have each other and enough to eat, they should be fine. Their only contact to the outside world is their wind-up radio. But their dreams of safety are shattered.
Best Actor
Alice Lowe
For Innocence
Alice Lowe takes the trophy for her performance in INNOCENCE, a crime drama in which Alice's character detective sergeant Noble must solve a mysterious death at a care home. Her convincing and authentic performance guides audiences to solving the murder, but is she being misled?
Best Acting Ensemble
Cast Of Innocence
Synopsis: When a worker falls to his death at a care home, it appears to be a terrible accident. But when a detective questions a young man with Down syndrome spotted at the scene, they uncover a crime more shocking than anyone imagined.
Best Cinematography
BOILING POINT
DOP Matthew Lewis
This film is an ambitious single-shot drama that delicately follows a chef through his chaotic kitchen on a busy night. In a short of many remarkable aspects, the cinematography is something that stands out.
Best Animation
TWO BALLOONS
Directed by Mark C. Smith
Synopsis: Two adventurous lemurs navigate their dirigibles halfway around the world to a place where happenstance and fate threaten to disrupt their reunion.
Best Art Direction
One, no one, 100.000
by Karlijn Milder and Lotte Milder
Synopsis: Lynn, a young girl, stranded in a countryside manor. A storm raging outside gives her no other option than to stay. During this stay, she mingles with the inhabitants of her new environment, many like herself seeking refuge from the storm. One morning Lynn becomes intrigued by a mural depicting a utopian world. Staring around a room of vacant faces she can't help but notice the stark dissonance from her own reality. Is it all coherent or just a coincidence?
Best Post-Production
Unregistered
Post by Ivy Agregan
Synopsis: Unregistered is set in Los Angeles in the not too distant future, where the government limits one child per home as a solution to overpopulation. When the mysterious ATA and her boyfriend REKKER witness a second (unregistered) child get arrested in broad daylight, it ignites a fire burning within REKKER and forces ATA to question the state of society - as well as confront a secret of her own.
Best Music Video
MADBEN - GRIEF, DANCE TO DEATH
Directed by Charles Keramoal &Nobrain
Synopsis: A soldier wakes up in a desertic landscape. Completly lost, he walks for days and weeks before encountering a mysterious object. His journey will lead him to a brutal awakening
Best First-Time Filmmaker
Harris Alvi
For My Father The Martyr
Synopsis: A disowned ex-muslim travels back to his family home after hearing terrible news. However, things have changed in his family and in his home town.
For more information about the winners and all the nominations, please visit our website.
Watch the winning and nominated films online!
The Lift-Off Season Awards VOD page is now live. Here you can find a wonderful collection of 35 of the winning and nominated films. This collection will be available for one month giving you the time to enjoy the films from the comfort of your own home. Attendees and Network Members can access this for free via the dashboard.
See all the photos and highlights from the night. Please share and tag yourselves in the photos.